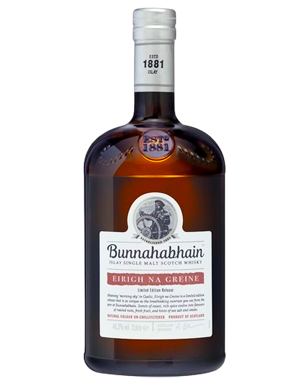 Bunnahabhain Eirigh Na Greine 1L
Volume: 1000ML
Brand: Bunnahabhain
Category: Whisky / Malt Whisky
Country: Scotland
Alcohol: 46.3%
Bunnahabhain is an impressive distillery from the Victorian age, located on the Isle of Islay.
Unlike most of its brethren on the island, Bunnahabhain mainly produces unpeated whisky. An example of this is the Eirigh Na Greine [pronounced ae-ree ne gray-nyuh], which means 'Morning Sky' in Scots Gaelic.
Like the morning sky, this whisky glows amber gold. Setting it apart from other expressions from Bunnahabhain distillery is its maturation, which takes place exclusively in French Red Wine Casks.
NOSE: Fruity and aromatic, sweet and intense with an inviting spicy aroma.
PALATE: Rich with sweet, dark fruit notes and peppered with warming spices.
FINISH: Smooth, full bodied and lingering.